Entries tagged as History

In February we visited Ireland so Niamh could meet the European side of the family. I dubbed the trip Niamh's Euro tour 2003. Although it was a long journey to and from, Niamh travelled very well for a lass of less than three months old, passport in tiny hand. We arrived at Betty and Michael's home in Donaghmede, a suburb on the North side of the city, in the area known as Dublin 13 (based on the city postal code numbering system). Our first visit was to Lily Dunne, Niamh's great grandmother (Betty's mom) who lives in a flat in the city center. I got a wonderful
photo of the four generations
while we were there.
Dublin in February is typically cold and rainy as one would expect, but all things considered, the weather was quite mild. We took a rainy day trip into Dublin and had a late lunch at
Oliver St. John Gogarty's
in Temple Bar, which was a return to the location of our rehearsal dinner, and featured about the biggest smoked salmon appetizer I've ever consumed. I hardly had room for the main course. I advised against it, but
Niamh insisted on ordering her first pint of Guinness
. After downing the pint, she ordered a second, but settled in for a nap after only one sip (how wasteful). Well I had no choice but to finish it off for her.
Continue reading "Dublin 2003, Celtic history and the Rock of Cashel" »

In the early 18th century the city of London with a circumference of roughly 36 miles, was home to some 600,000 people despite the lack of modern plumbing, crime enforcement or medicine.
The extent to which corruption, vice and crime were institutionalized inspired the works of contemporary authors like Charles Dickens, Jonathon Swift, Daniel Defoe and Henry Fielding. All these famous English literary figures were profoundly influenced by the exploits of English criminal Jonathon Wild. Wild's life and escapades served as the source material upon which the character of Peachum was based in the play
The Beggar's Opera
by John Gay later transformed by Bertoldt Brecht and Kurt Weil into the equally well known
The 3 Penny Opera.
Fielding wrote a semi fictional novel about Wild, and Dickens modeled aspects of the character Fagen after him.
Boycott
Sat, Dec 29. 2001

I've been reading
The Burning of Bridget Cleary
which contains a brief allusion to the origin of the word Boycott, which originated in Ireland. This abstract from
bartleby.com
does a great job of summarizing the story:
"Charles C. Boycott seems to have become a household word because of his strong sense of duty to his employer. An Englishman and former British soldier, Boycott was the estate agent of the Earl of Erne in County Mayo, Ireland. The earl was one of the absentee landowners who as a group held most of the land in Ireland. Boycott was chosen in the fall of 1880 to be the test case for a new policy advocated by Charles Parnell, an Irish politician who wanted land reform. Any landlord who would not charge lower rents or any tenant who took over the farm of an evicted tenant would be given the complete cold shoulder by Parnell's supporters. Boycott refused to charge lower rents and ejected his tenants. At this point members of Parnell's Irish Land League stepped in, and Boycott and his family found themselves isolated—without servants, farmhands, service in stores, or mail delivery. Boycott's name was quickly adopted as the term for this treatment, not just in English but in other languages such as French, Dutch, German, and Russian."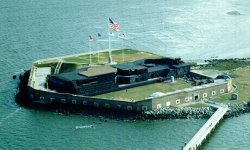 I recently visited Charleston, South Carolina where Tracy is busy learning about her new employer. Charleston is a beautiful scenic town, with a lot of great seafood restaurants featuring the local shrimp and she-crab.
Our one site-seeing activity was a visit to
Fort Sumter
. Fort Sumter is known as the location of the "Battle of Fort Sumter" of April 12 and 13, 1861, or more specifically, the first battle of The Civil War.
I found the story of this little island fascinating, and believe it to be thematically relevant to our present crisis. Fort Sumter is a man made island commissioned by the Army core of engineers directly in response to the war of 1812. It was in 1812, that the British had marched into Washington and burned the most symbolic structure of our government, The Whitehouse. Were it not for rain, the entire city of Washington might have burned. Subsequently, the US military began to examine it's vulnerabilities, and in particular begun to look for ways to address their lack of naval capacity, and the direct threat this presented to the internal safety of the nation.
« previous page
   (Page 1 of 1, totaling 4 entries)   
next page »