Scrappy
Mon, Aug 21. 2006

I woke up the morning of tuesday August 15th, 2006 at 6:45am, and after looking around for a minute, realized that Scrappy wasn't on his dog bed. As I had an 9am meeting that day, I went upstairs to find him, and discovered him on his side, having passed away probably in the early morning hours. He lived to be twelve years old, and his death was a great surprise and shock to us. Although he hadn't been eating well, and was on some medication, we never suspected that anything was seriously wrong with him. He had been acting fairly normally and was as animated as ever especially when any "people" food was involved. He'd been up to all his usual tricks, jumping on the couch, and trying to steal things off Niamh's plate whenever she might put it down for a minute.
We decided to have a laboratory do a post mortem exam, and later that day, they called to inform us that Scrappy had a number of cancerous growths on his liver and pancreas. One of them had ruptured, and according to the lab, although it was a sudden upredictable event, it nevertheless was inevitable. They assured us that there was nothing we or they could have done, and that he wouldn't have suffered much.
We bought Scrappy from a Pomeranian breeder located in Riverside county, which is east of Los Angeles. We'd recently moved to an apartment in West Hollywood, and wanted a companion to keep Gizmo company during the days while we were at work. Tracy had spoken to a breeder over the phone and negotiated a deal for a Pomeranian puppy who they hadn't been able to sell and was now too big. My recollection is that he was already five or six months old, but perhaps a bit younger. It was a friday after work, and we jumped into Tracy's old VW rabbit, and headed out on what would turn out to be a two hour soujourn which included our getting lost, driving up and down lightless suburban streets, and giving serious consideration to turning around and heading home. At the end of a dead end street, I finally pullled the car over and got out. The address seemed to be in the vacinity of the one we were searching for, but we were expecting a ranch or warehouse rather than the rows of tract houses. We couldn't find a street number. Then I picked up the faint sound of dogs yapping. I followed it to the garage of a house and rang the doorbell. An elderly woman answered the door holding a tiny white pom in her hands.


It's been a while since I did a mainpage update. Came across a couple of classic old photos taken by my old college roommate Peter Fong, and decided to do a rescan. These were taken when we had an apartment in Redondo Beach across from the ocean, and Giz was still just a puppy. These were pretty badly damaged, but thanks to Adobe Photoshop they're looking pretty good again, at least in the online form. This scan was a lot better than the original one which has been on the site for a long time. Click on either photo for the fullsize version in the gallery.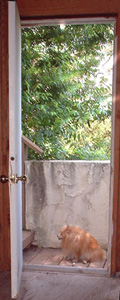 I bought and assembled a Smith machine, which is a sorta home gym weight rack a while back, and set it up in our basement room. Gizmo likes to sit out on the porch entrance and monitor the stairway while I'm working out.
It's been a long time since I updated, primarily thanks to the demise of my DSL Internet connection when Northpoint went bankrupt. Apparently, my house is just a bit too far to from the local pacbell central office for me to get reliable DSL service (even though I had it for over a year from Northpoint!). I tried two seperate ISP's and in both cases waited weeks only to find out at the last minute that they
couldn't
provide me service.
I've found a new one and am keeping my fingers crossed. Fortunately, I was able to colocate the gizmola server with Kent Bulza, who has been nice enough to help get it and my mail going again. Thanks Kent!

Ah unemployment. Lately I find myself with plenty of time to read, work on little projects, and scan negatives. I've done another RedHat Linux upgrade on Gizmola, and added some notes on using rpm. Tracy recently snapped some 35mm photos of the Scrapples, and we liked one in particular. I scanned the negative, and with a little help from photoshop, we have the thumbnail on the left. Click on it to see the photo gallery.
Dog Days
Thu, Sep 21. 2000


Gizmo and Scrappy continue their whirlwind year. They were recently Cover boys on an album by local Jazz musicians "Laurel Canyon Radio Company".
Click on the image to check out their site, which has some interesting information regarding Laurel Canyon and more about their albums, which are for sale nationally. The album has a canine theme, in that the songs are about dogs and their owners in both the literal and allegorical sense. Gizmo and Scrappy are scheduled to appear in a book of photography due out some time in the future. We should have more details later.
If I can get a scanner hooked up I'll try and post some of the proofs.


My Experiments with Audiocasting continue. From time to time I'll run a relayed streaming mp3 channel on Live365. I've stayed with the Alternapop.net domain. If it's running, you can stream it using an mp3 player like winamp. The playlist has over 500 songs in it pulled from my music collection. Try clicking here and if it's up, you should get the station.


« previous page
   (Page 1 of 1, totaling 5 entries)   
next page »