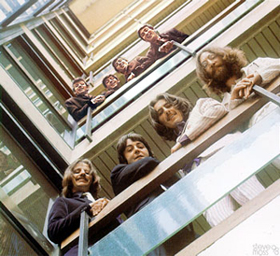 I became immersed in the music of the Beatles as a teenager, listening to their albums and songs for hours on end. I'm old enough to remember when all the members were still alive.
Following the tragic death of Linda McCartney to cancer comes word that George Harrison finally succumbed to his long battle with the disease on Thursday November 29th, as so many of his fans feared would happen.
As a songwriter with the Beatles, his compositions could be caustic and precise (Taxman), expansive, spiritual and psychedelic (Within you, without you) and optimistic (Here comes the sun, and the standard "Something") Credited with teaching John Lennon the basics of guitar playing, his blues and rockabilly influences matured and adapted to the composing explorations of Lennon and McCartney, along the way contributing seminal riffs to the Beatles catalog like the
Daytripper riff
, a veritable rite of passage for any guitarist.
His rhythm and acoustic technique, use of 12 strings, and other stringed instruments like the Sitar continues to influence new guitarists in the same way the music of the band casts a shadow over the entirety of popular western music.
George was a man of taste, sophistication, intelligence and a quest for understanding of the human condition and the essence of the human spirit. The youngest Beatle and most solitary and private, he survived tabloid scrutiny of his personal life (particularly his marriage to wife Patti Boyd who later left him to marry his good friend Eric Clapton who wrote Layla about her). I doubt anything could be more telling in regards to Harrison's character and loving nature than his attendance at the couple's wedding. Harrison's post-Beatle's career was varied and successful in numerous artistic and social endeavors. He produced a number of well received solo albums, incuding the triple album "All things must pass" and as an Independent film producer he backed numerous films including "Monty Python and the Holy Grail" and "The Life of Brian", Neil Jordan's breakout "Mona Lisa", and the cult favorites "Five Corners" and "How to Get Ahead in Advertising." He virtually created the genre of World music with his use of the Sitar on Norwegian Wood, and his efforts to bring Ravi Shankar to the world stage.
His concert for Bangladesh pioneered territory which paved the way for Live Aid and the benefit concert as a way of generating income for charity while raising awareness about issues that confront humanity throughout the world.
At only fifty eight years of age, having battled llness for the last few years, he passed from this earth far too soon.